The largest children's choir concerts in the world!
Over 1 million elementary school students have already participated in this MASSIVE EDUCATIONAL MUSIC EXPERIENCE!
In Coordination with NAfME
The National Association for Music Education (NAfME) and American Young Voices believe passionately in inspiring the next generation to find their love for music — join us for the educational phenomena that teachers are raving about!
Participating teachers can also earn valuable Professional Development hours when their school takes part in the American Young Voices concerts program.
Conducted By Francisco J. Núñez
We are honored to work with Francisco J. Núñez, our conductor! Mr. Nunez is the Artistic Director/Founder of the Young People's Chorus of New York City, as well as an acclaimed composer and arranger of choral music.
Educate, Engage and Inspire!
American Young Voices® mission is to:
EDUCATE every student in your school through music. They are all invited to participate in this inclusive arena-sized educational music experience.
ENGAGE students with our diverse range of traditional, world/multi-cultural, and popular music arranged especially for them.
INSPIRE a love of music for everyone by giving them the opportunity to perform in some of the greatest arena's in the world!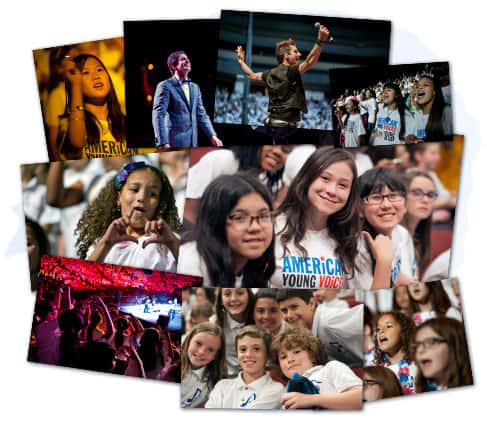 Music Education On A Massive Scale!
Your students will sing to a sell-out audience with thousands of other children in a massive arena near you.
A Young Voices concert is all about your students.
YOUR STUDENTS ARE THE STARS!
Contact us for more information.